Why should you take care of your Magento 2 product page optimization? It is really important actually. Let's say a customer is already on your website store. You've done good content marketing, spent your budget on ads. And now he is here. Interested in your product already. He went through your usable navigation or search on your website and reached your product view page. Now he is making up his decision to purchase. And all that matters now – is the quality of your product page.
So let's talk about Magento 2 product page optimization and what is really important there.
Product Description
Product needs an awesome description. Things on the internet are not selling without text. Text is required indeed. But don't overdo it – description needs to be not too long and not so boring.
To write a good product description you need to know your auditory and the description should match it and match products you sell. If entertainment and youth targeted products allow you to use some humor and be some kind of emotional, serious high technology products needs description concentrated on the technical specifications and options.
Don't forget to explain the price customers have to pay for your products. For example if you are selling expensive sunglasses – don't forget to mention its advantages. Like they are bullet proof or have the x-ray feature.
And try to follow this rule. Cheap frequently selling products require brief descriptions. And the expensive and unique products need much longer and detailed texts.
Call to Action
What is the main and most important call to action on your Magento product page? Of course it is "Buy Now" or "Add to Cart". There is no need to re-invent the bicycle there. It will only mislead your potential customers.
And this button should be big, contrast and readable. Don't place it too close to other buttons on this page like Add Review or something. This button should be clearly visible and attract the user's focus of attention.
You know how many people just leave bad designed product pages because they really can't find how to buy this stuff here.
Here you can see a good example of well designed call to action button on the HM product page. It have solid background. Well distanced with other elements: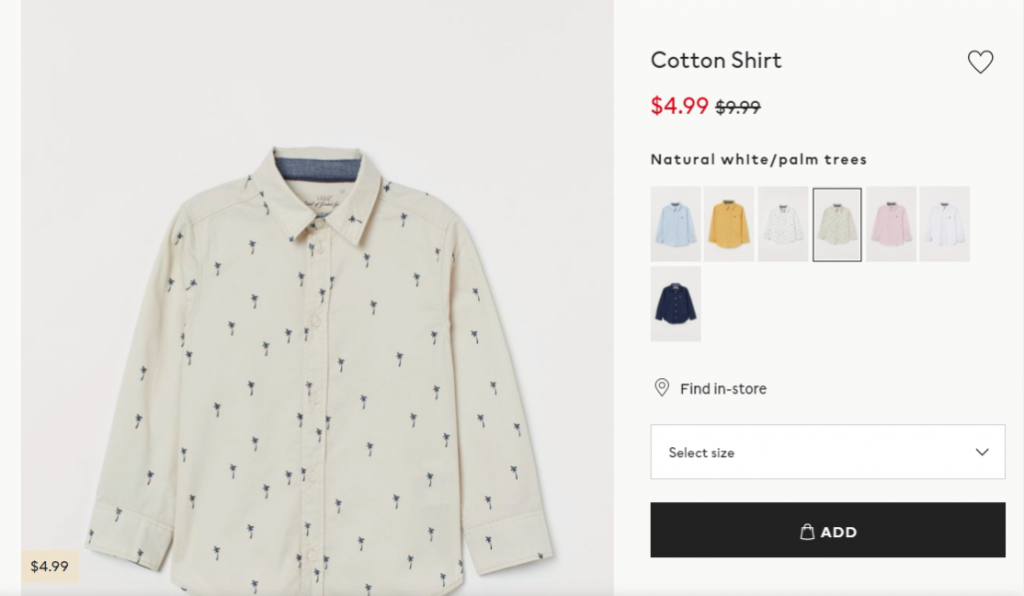 Product Media
What else is important? Visual representation of your product. People are choosing products with their eyes – that is why you should have a lot of cool quality photos. Really. Invest into high quality photos of your products – it will worth it.
If it applies – show photos of your products in action – watches on hand, clothing on models. It will show customers how your product feels in use and how it is visible from different angles and in different situations.
And of course – video. Short videos will give a really good impression for your clients. But please don't make them autoplay with sound enabled. This is great No.
Having a lot of photos and videos on your Magento product page is really useful. But you need to serve them in the right way. And how to present such media content in the best way? Here comes the Slider Revolution for Magento 2. It can help you to create a perfect slideshow with wow effect that will attract your customers even more.
Customer Reviews
It will be obvious if I say that many people do purchase based on recommendations of other people. That's how social creatures like humans used to work. Customers are more likely to buy if they see other people's approval of this product. Moreover they can make sure that product will match their needs, have an appropriate quality and so on.
And even more important – to give your feedback on client reviews, even on negative once. Recommend other products or propose some deals. It will show them that you really care about them.
But don't place all those reviews just on the product page. It will distract customers. Show a small block with a number of reviews and an average rating and link it to the separate part of the product page where they can see all of the reviews.
Sell Even More
If your client is already on your product page – why not to propose him more products? Show him some similar products or products that are selling together. Make this client fill his shopping cart to the top. But again – don't over do it. Those additional products need to be shown at the bottom of your main product content. So they will not distract from main product info and your call to action. Forgot to mention the tool you can use to display additional products in the right way. You can do it with the Product Slider Magento 2 extension. It will allow you to show such products in the form of the cool compact and responsive slider.

So what we finally have.
Magento 2 Product Page Optimization Summary
Good description
Slider with quality images and video
Visible call to action
Customer reviews
Related products slider