Email is a very important part of interaction with clients and potential customers in e-commerce business. And every appeal to the client should reflect your brand. This is why it is extremely required to keep all your emails well designed and be consistent with your brand guidelines.

Magento 2 provides rich features to manage email templates for all outcoming emails. But to work with them you need advanced knowledge of Magento 2 structure and techniques to override default emails (link to our article). Plus of cause it will require HTML and LESS/CSS skills.

So how do you make your emails look solid and do good sales without spending lot of time diving into specifics of Magento 2 engine? Good news – we have solution for you! Magento 2 Email Templates extension – is only tool you need to quickly and effectively change design of all and any emails in your online store.

It comes with pack of perfect hand crafted pre-designed blocks to create template for your emails. Plus it have powerful drag-and-drop based editor with advanced features like HTML editor for more skilled users.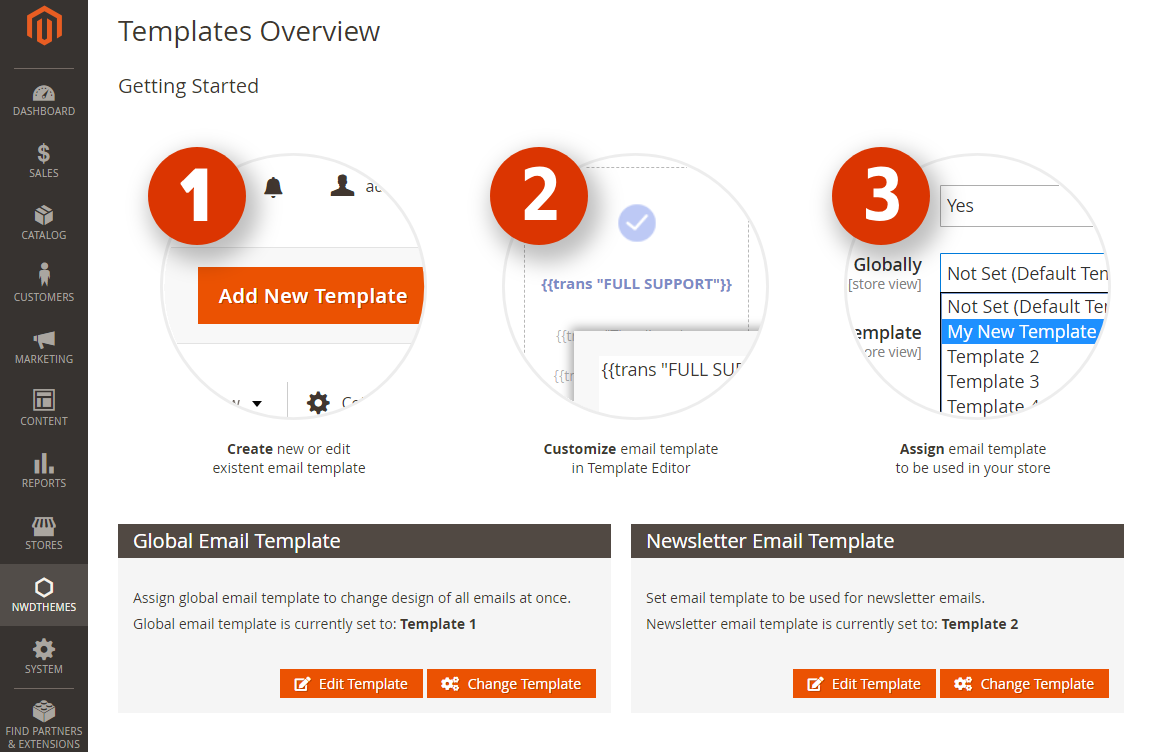 Main Features
Change email template design globally
With this feature you can assign design to all outbound emails in your store with few clicks. This is real time saver. You don't have to go through all email templates to adjust design – instead you only have to edit one global email template that is applied to all emails. You can modify this template and all changes will immediately affect all store emails. And you can quickly change it to different email template for any special occasion.
Change design of specific email templates

If you need you can assign email template design to any specific email in your store to make it look different. You can easily find configs for email that have to be changed using list of all Magento email templates configurations gathered on Templates Overview page.

Change design of newsletter email templates

Newsletter emails are so important in generating new sales. That's why we have feature to change design of newsletter email templates. Just select one of our editable email templates and it will be applied to all of newsletter email templates.

Library of email template blocks designs

When editing or creating new email templates you can choose from number of pre-designed headers, footers and content blocks and then edit them to fit your needs.

Visual email template editor with drag and drop and HTML code edit features

Editing email templates is user friendly and intuitive with drag and drop interface. And for users with HTML skills we have options to edit HTML code of email templates as well to give you full control over email templates content.

Email template preview

Of cause you want to know how your emails will look like before sending them out. So we have preview feature in template editor to check out exact look of how your emails will be seen by recipients.

Send email template preview to email

Best way to see how your email will look is to see it in inbox of your mail application. You have this ability with send email template preview to email feature. Just click and enter your email and check your inbox for email template preview.
All Magento email templates configs on one page

There are lot of email templates in Magento 2 that could be configured. Sometimes it can take some time to find where is this config is located in Magento 2 configuration. In our application we gathered all of them for you and placed on single page. Now you can quickly access template configuration of every email template in your store.

Add and edit email templates

You can create any amount of email templates to suite all your needs. Like to have email templates specially decorated for every holiday or campaign. Edit them with handy email template editor to add all information you want to share with subscribers of your online store.

Compatible with all modern browsers

Our email templates are tested and compatible with all modern browsers. You can be sure email templates designs will look good on all platforms.

Email clients friendly

Email templates coding is confirmed to look good in modern email clients. Your clients will be able to read your emails not depending of what email application they are using.

Responsive emails design
A lot of your clients and subscribers will read your emails on mobile or tablet devices. And it is very important for your emails to look good there. Our email templates are responsive so they will fit any device size perfectly.

Friendly Professional Support
If you will have any question or problem with our product our team will help you to resolve any of that. And we are always open to suggestions regarding new features and custom works requests to make this product fit needs of your online business.

New designs updates
You will get even more fresh designs for your emails with regular updates of this extension.
If you liked our Magento 2 Email Templates extension and found it helpful for your online business you definitely have to try other our Magento 2 extensions like Product Slider or Power Banners.