Magento 2 is a great open-source ecommerce platform. It has wide variety of features, gives you full control on design, has large community and so on. But most important nowadays is that Magento is one of the most search engine friendly e-commerce platforms. Many store owners do not use all its power due to a laсk of knowledge or laсk of time. But if you are looking to increase revenues and site visitors, you need to check our magento 2 seo tips on how to take advantage of Magento 2 seo features available out-of-the-box!
Magento 2 SEO tips
List include both off-page and on-page tips. We will try to cover all bottle-neck places so you can be sure in your store.
Site speed
Search engines love fast sites. Page load speed is used in ranking algorithms. But moreover, customers love fast sites. Nobody wants to wait. A slow store webpage might being closed before it even had a chance to show how good it is. Some of the most important tips to increase magento 2 store load speed are:
choose the fastest hosting you can afford. Magento 2 hosting requirements can be checked here
use production mode for a live site
enable cache in System > Cache Management
enable js/css minification ( Stores > Configuration > Advanced > Developer )
use CDN for static content
pay attention to 3rd-party extensions are you using. Some might have great influence on your performace
Domain name and HTTPS
If you do use both www.domain.com and domain.com you need to set preferred domain name in Google Webmaster Tools. The preferred domain is the one that you would liked used to index your site's pages.
Use HTTPS. It is more secure, your customers feel more secure. It is also a ranking signal for search engines.
Duplicated content
Duplicated content is one of the most important SEO issue affecting magento stores. In most cases duplicates occur because of product filtering, sorting and pagination. Another common case is same product in different categories and variation of the same product.
Disable Use Categories Path for Product URLs. Optimally you should only use top-level URLs, meaning don't include the category in the path. Edit this option for your website under: Stores > Configuration > Catalog > Search Engine Optimization
Enable Use Canonical Link Meta Tag For Categories. It means that canonical URLs are applied to sorted and filtered pages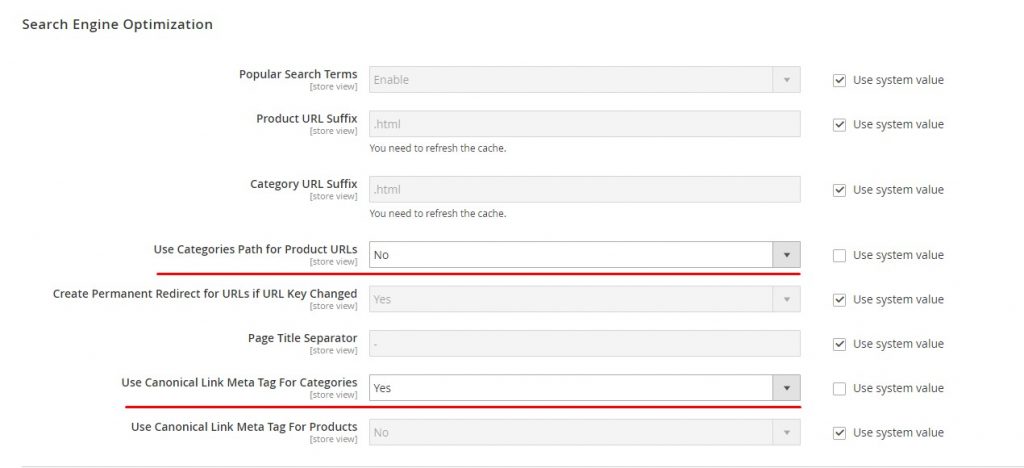 Google Webmaster Tools and Analytics
Set up Google Search Console (Google Webmaster Tools) and Google Analytics. With Google Search Console, you can monitor and track your site's search performance, doing so can help you understand how Google views your site. Google Analytics is one of the best services to track data about visitors on your site.
Product Image Optimization
Add ALT text to product images. It is really good habit which improve your site accessibility. Google places a relatively high value on alt text to determine not only what is on the image but also the topic of the surrounding text. You can do it on product edit page in Images And Videos section.
Optimize the images itself. Product page with too heavy images will take longer to load. Page speed is important for both search engines and customers. There are a number of ways to do it – directly on your server or using 3rd-party service like TinyPNG.
Magento Configuration
These steps can be done via magento backend.
ALT text for your logo. It can be done in Content > Design> Configuration > Header
Add xml sitemap and adjust your robots.txt. Check magento documentation for details
SEO-friendly url for product. Product url key could be specified on product edit page in Search Engine Optimization section
Dont use default descriptions. Use unique Meta data for categories.
Unique Meta data for cms pages ( including HOME page ). It can be done in Content > Pages > Home Page > Search Engine Optimisation
Additional steps
Add share button. It will allow your customer to share a product across different social platforms like Faceook, Twitter and Instagram
Consider creating a blog on your site. Well-written post can drive a lot of traffic to your site.
Add Q&A section to your site. User-generated content are great for attracting visitors.
Use Video on product pages. Rich-media content is the best to show product benefits.