Codecanyon has quite large extension collections for Magento 1 and 2. You can see wide variety of plugins that helps you to extend your webshop with different sliders, faq pages, testimonials, discount codes, email templates, social logins and more.
Lets check Codecanyon top selling Magento extensions of 2018:
1. Slider Revolution Responsive Magento Extension
Sales: 3450
Author: nwdthemes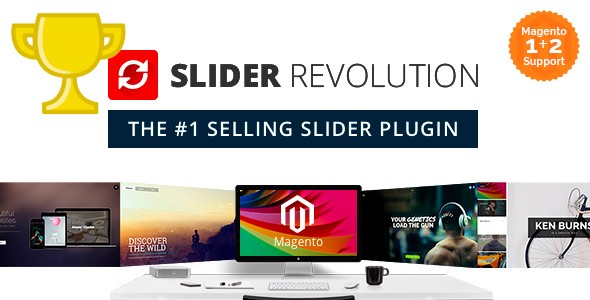 All we know there are lots of extensions on the web that allows you to create different sliders or banners to attract your customer's most attention to best products at your webshop or some special events with eye-catching images. Most of them are limited and can be used only in some special cases. Slider Revolution Magento Extension is all-in-one solution for all purposes. This extension is designed to work and look nice on any PC, tablet or mobile device and also has optimization for Android & Mac OS. Not only designers or developers can use it but also any not tech savvy user will be able to create a great presentation with new, more intuitive workflow and user-friendly admin panel interface. With the help of Revolution Slider extension it's possible to create any slider you can imagine
2. Magento Email Templates
Sales: 1155
Author: jopin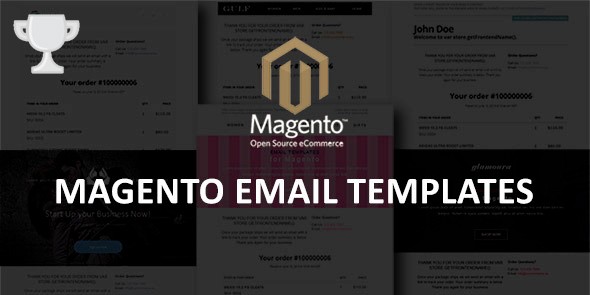 Another great Magento extension that helps you to customize transactional emails sent through your Magento store in easy and effective way to differentiate yourself from the competition. It allows you to convey the information you are trying to communicate in an effective way and generate a higher level of customer engagement. Make them look beautiful and fit your Magento store most.
3. Magento Google Tag Manager Integration
Sales: 1115
Author: UdevixTeam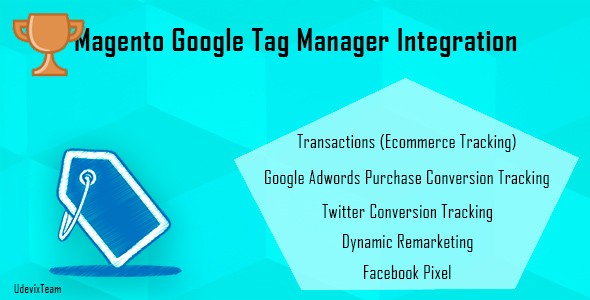 With Google Tag Manager you can manage your Google Analytics events, Adwords conversion tracking, remarketing, and many other features in one place. All you need to integrate Google Tag Manager is to insert your container id into the configuration of this extension.
4. Instagram for Magento
Sales: 292
Author: Consofas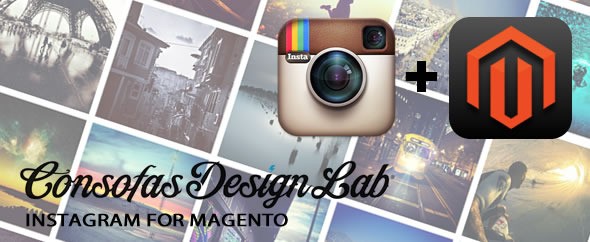 This extension allows you to add an Instagram feed to your Magento Website! Show your Instagram feed images and videos easily via the Magento Admin area. CDL's Instagram for Magento module creates a sidebar or footer mini gallery as well as a full gallery page.
5. Discount Coupon Code Link Extension for Magento
Sales: 292
Author: themezaa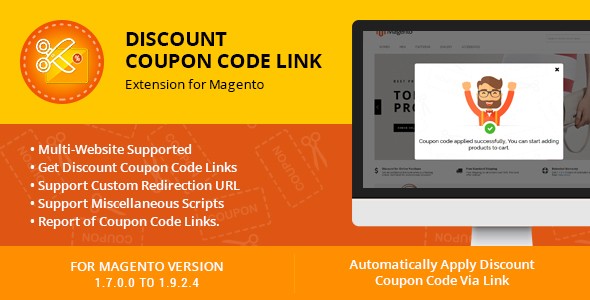 This extension allows to trigger discount coupon codes for shoppers/customers on the shopping cart page automatically. It will will automatically apply coupon code when products are added to shopping cart. Eye-catching lightbox popup with pre-configured message when coupon code applies. Easy configuration for Miscellaneous scripts, Success message, lightbox popup and custom redirection URL settings. View report of "No. of Views" for particular coupon code link. It is great to use "Discount Coupon Code Link" in newsletter campaigns, emails, marketing blogs or posts, online/offline ads, social media posting or in any promotional tools
6. Responsive Magento Product Slider
Sales: 267
Author: nwdthemes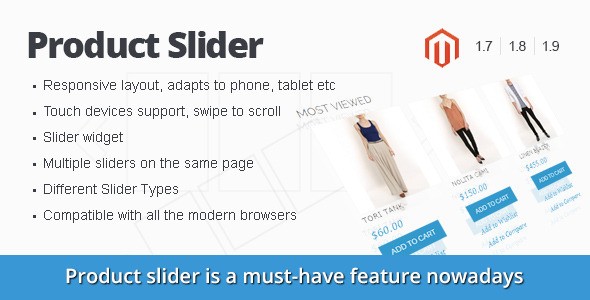 This module allows you to create responsive slider to showcase your Bestsellers in almost any place on site. It does support touch devices like iPhone and iPad, customer can swipe through the products. You can choose to display or hide certain product elements like name, price, rating, add to cart button, wishlist and compare links etc. It also comes with a built-in shortcode generator that allows you to select slider type, add title, choose number of visible products, adjust slider settings like slide speed, navigation or pagination and insert shortcode in your cms page or block.
Now you agree that you need a slider, but not sure which one should pick? Check out our Magento 2 Product Sliders Review
7. Advanced Product Video Extension for Magento
Sales: 256
Author: themezaa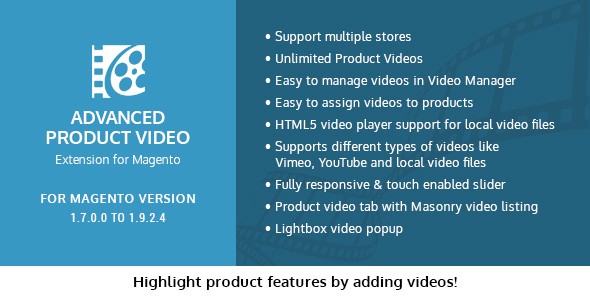 Advanced Product Video is a very useful feature to highlight product features by adding videos to product page with customizable carousel slider and in product video listing under description tab. Extension supports different types of videos like Vimeo, YouTube, and local video files. Show video as lightbox popup with title and description information.
8. Wunderadmin – magento admin theme
Sales: 241
Author: nwdthemes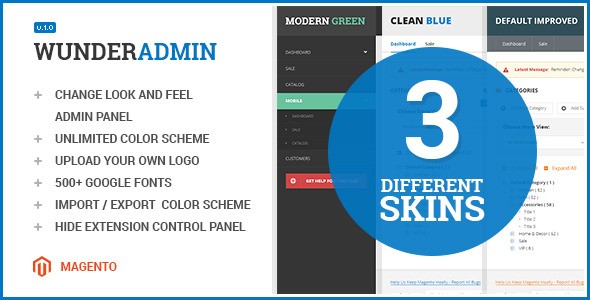 A great solution who doen't like or fed up of default Magento admin panel design. With a large bunch of settings it helps you to change the look and feel of your admin panel to your choice or apply one of the predefined skins.
9. Advanced FAQ Extension for Magento
Sales: 157
Author: themezaa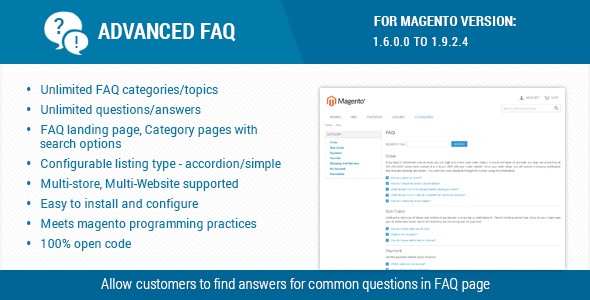 Advanced FAQ Extension allows your customers to find answers for common questions in FAQ page with Multi-Store & Multi-Website support. Define questions into categories. Search questions and answers based on content. This module enables merchant to solve customer queries quickly by providing relevant FAQs. This module includes FAQ categorization, accordion style, sorting, search block and much more.
10. Magento Customer Attributes Extension
Sales: 152
Author: greenacorn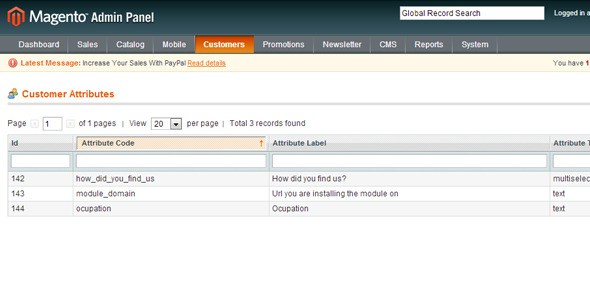 For any shop owner, knowing your customers is key to a successful business. 90% of our Magento customers always ask for extra customer attributes within the registration forms i.e. the checkout registration and the customer account area. The module allows you to add the custom attributes and manage within a grid via Magento admin. You can also filter and sort by attribute name, type and code.